MARCH 31
STILL MORE HORROR OF HYPOCRISY
Most regular news doesn't get any press here at feoamante.com, but yesterday and today is of importance to writers - although for very different reasons. And the Horror of war and other atrocities are easy pickings. But if writers like Richard Laymon and David Lynch taught us anything, it's that the veneer of respectability in your own neighborhood is a tenuous thing at best.
Like when the villagers grab their pitchforks and torches and go off to stop the monster.
Of in this case...
In Flagler County, Florida, a small but vocal group of people have decided to protest a legitimate strip club by stalking their patrons and posting their photos on the web.
And yet, they refuse to offer glossy 8x10s! Why can't these protestors go inside and take photos where, at least, you could get a nice photo of yourself with a stripper giving you a wholesome lap dance?

NOW LIFT YOUR HEAD. YEAH, THAT'S IT. NICE!
Now check out how the media handles this. Off the Local6 news channel went, into the neighborhoods near the strip club, to ask the actual citizens how they felt about it all. Many of them supported the protestors.
See the photo of Lynn Tyler? She chose to get on TeeVee wearing askimpy bikini top that shows off hernice, ample cleavage. She is publically AGAINST the strip club. She sides WITH the protestors! Lynn wants the world to know that she doesn't think women should be parading their bodies around INSIDE a building so close to a neighborhood! Think of the children! So she gets on TeeVee in a skimpy boob busting bikini. Now I don't mind that she does this, but then again, I'm not protesting any strip clubs either.
Check out the news story at Local6.com. There is some good inspiration for a story or three hundred, as well as larger images of a man's hand, holding a microphone, and pointing it at Ms. Tyler's ample bosom.
MARCH 30
PATRIOT ACT: YEA! CHICKENSHIT: NAY!
See, over the course of the last few years, we've been able to witness firsthand how all the clucking chickenshits cry "Big Brother" (though few have actually read 1984) over the Patriot Act (though none that I've met, so far, have even read the Patriot Act), and proudly proclaim that George Bush is the Worst! President! Ever! and is censoring our free speech. Bush is bad as Hitler and is censoring our free speech. He needs to be tried for War Crimes and is censoring our free speech. He should be executed because, among other things, he is censoring our free speech. And while we're on the subject, Down with Christianity because, among other things, they want to censor our free speech! Look at Christianity's long and ancient history of torture, murder, and war, not to mention their stranglehold on our free speech!
I can't count all of the Heavy Metal, Black Metal, Death Metal, Grindcore Metal, Punk Metal, Industrial, Techno, and folk singers who've booed Christianity while using their free speech.
And then, when it comes to atrocities from moderate to extreme members of the Islamic religion, which are being carried out right now and are far more reprehensible than anything from any other religion in the history of the earth, it gets quiet. So quiet you could hear a mouse fart.
bppp!
Not one person among the Bush bashers or Christian bashers uses their free speech against the Islamic religion. That's because they know that, for all of their blowhard ballyhoo, the most powerful leaders of the Islamic religion, will REALLY censor their free speech and do it right now - with DEATH!
Bush, the Patriot Act, Christianity and other religions, are all just strawmen for the clucking chickenshits to peck at, knowing that these very same entities will protect their butts when the whip comes down.
Attacking and preying on those who protect you is also the definition of parasite. So the next time you hear the blowhard ballyhoo, ask them to come clean about how they feel, in a voice just as loud, just as identifiable, about the extreme Muslim community.
While you're watching the feathers fly, check out this story from the San Francisco Chronicle
Borders, Waldenbooks, Won't Carry Magazine
And as a caveat, I'm an atheist. The magazine in question is from the Council for Secular Humanism. The point I'm making is not in defense of Bush, the Patriot Act, or any religion, but in standing up for what you say you care about. If you are going to preen and puff out your chest for free speech, then that means free speech for ALL! There is no bravery in crowing within the henhouse.
---
HAPPY HORROR BIRTHDAY TO -


Actor

John Astin

(THE ADDAMS FAMILY [TV], TEEN WOLF TOO, RETURN OF THE KILLER TOMATOES!, NIGHT LIFE, GREMLINS 2, KILLER TOMATOES STRIKE BACK!, STEPMONSTER, THE SILENCE OF THE HAMS, THE FRIGHTENERS) has been in some of the worst movies ever. But it just wouldn't be a truly bad movie without him and even the producers of the awful TOMATO movies realize that. With RETURN OF THE KILLER TOMATOES, he's been in every sequel since plus the cartoon series plus the (

now valuable

) "Professor Mortimer Gangreen" character doll. What can we say? We just love old Gomez and wish him a happy 76th birthday!

MARCH 29
From Scott Goldberg
THE DAY THEY WENT TO LONG ISLAND
If you plan to be in the Long Island, New York area in May, you might be interested in the following.
THE DAY THEY CAME BACK and ALL I WANT FOR CHRISTMAS have been accepted into the 2006 Long Island Film Festival, which is Thursday, May 4th - 7th, 2006. Opening night, Thursday, May 4th, 2006 both films will be shown in a block of films with a 10 minute Q & A with the cast and crew to follow. THE DAY THEY CAME BACK will also be shown on Sunday, May 7th, 2006. The entrence fee is $10.

THE DAY THEY CAME BACK stars Friday the 13th Part 3 alumni and Saturday Night Live actor Chiko Mendez in a zombie outbreak that plagues Long Island!

ALL I WANT FOR CHRISTMAS stars Chiko Mendez and Kristen Spaeth, and is about a demented man, Santa Cruz, who spends the holiday's with his "daughter" Isabelle. Also starring Heidi and Ryan Spaeth.
Check out THE DAY THEY CAME BACK.
---
HAPPY HORROR THRILLER BIRTHDAYS TO -


Actor

Lucy Lawless

(GINGER SNAPS, SPIDERMAN, BOOGEYMAN, LOCUSTS, VAMPIRE BATS) is 38.
Actor

Christopher Lambert

(SUBWAY, HIGHLANDER - all of them, KNIGHT MOVES, FORTRESS - all of them, BEOWULF, RESURRECTION, ABSOLON) is 49.
Writer/Director

Victor Salva

(CLOWNHOUSE, NATURE OF THE BEAST, JEEPERS CREEPERS, JEEPERS CREEPERS 2) is 47.
Today's birthday girl is known for her work in Star Trek, but did you know that during those same ST years, she was also the voice of Demona in a long running children's cartoon? Happy Birthday to
Actor

Marina Sirtis

(BLIND DATE, WAXWORK II, GARGOYLES [TV - all], STAR TREK: FIRST CONTACT, TERMINAL ERROR, STAR TREK: NEMESIS, NET GAMES, SPECTRES) is 46.

MARCH 28

FAMOUS FEOS
Welcome to Feoamante.com. I am the Internet's most popular Feo. That's what the search engines tell me when I do a vanity search. Before you judge, understand this: I'm not controlled by my ego - but it does have its legs wrapped around my waist. I hope you will enjoy this Horror Thriller site, but I must point out to you that while I may be the most popular Feo, I'm certainly not the only one, or even the most important one!

There is an entire International group of orthdontists called Foederatio Europea Orthdontica, or FEO. Many proud members of Feo by gum! Hell, you should check these folks out! Go to Feo-Online.com.
---
STONE IS STALKING YOUR DAUGHTER!
I don't want folks to think that I was coming down on Natalie Portman yesterday just because she was young. I came down on her only because she says stupid stuff. In all fairness, you can be more than twice as old - even older than me! - and still be just as ignorant. Of course, it's a lot creepier then - the scent of ignorance gives way to the odor of stupidity - but it is your right. Take, for example, beaver flashing has-been, Sharon Stone (DEADLY BLESSING, TOTAL RECALL, SCISSORS, BASIC INSTINCT, SLIVER, DIABOLIQUE, SPHERE, COLD CREEK MANOR, BASIC INSTINCT 2). She hasn't led a hit movie in the past 14 years, not since BASIC INSTINCT in 1992. So now she's reprising her role, at the age of 48, and will include the same leg crossing scene, if the movie poster is any source.
Lately, Sharon has been gorging herself at the trough of public notoriety, likely in the hopes of getting folks to give a damn about her rehash sequel (I say this because, up until now, Sharon is known for passionately defending animals). Lately she says that she tries to get to underaged girls at shopping malls, alone, while they are trying on clothes, and when their Mother has her back turned, so she can tell them her opinion about sex. She says, "If you're in a situation where you cannot get out of sex, offer a blow job." She goes on to say, "I'm not embarrassed to tell them."
It seems that Sharon is just too damned stupid to be embarrassed. By definition, if a girl is put into a situation where she cannot get out of sex, that's rape!
Imagine if the roles were reversed and a 16 year old guy was trying on clothes and some 48 year old male celebrity, like say, Andy Gibb, came up and told him, "Hey kid, if yer ever in a situation where you can't get out of sex, offer a blow job!"
Ugh! That is sickening on so many levels, not the least of which, Andy Gibb is dead, which adds a whole new spectrum to the scenario, but you get my point.
Rapists everywhere are probably applauding the wisdom of Sharon Stone right now, knowing that, thanks to her, they can at least get a bj from an under-aged girl and probably escape pubishment: After all, the girl is actually offering!
Check out the full story at ContactMusic.com.
Update: March 3, 2006
BASIC INSTINCT 2, which was sold in both movie trailers and the movie poster as a second opportunity to get a glimpse of Sharon's Stone's snatch (albiet a 14 year older snatch), tanked at the box office, coming in at 10 out of 10 and faring worse than even "Alan Smithee" movies like Supernova. Some things just aren't worth coughing up 8 bucks and a few hours of your life for.
I'm looking forward to 2008. That's the presidential elections in the U.S. and I can't WAIT to hear who Sharon Stone thinks I should vote for!
MARCH 27
HER NATTY ATTITUDE
Actor Natalie Portman (MARS ATTACKS!, V FOR VENDETTA), in an interview in UK's Independent Newspaper, says "I don't want to be working for money because then you are no different [from] a prostitute." Well, Portman is young, impressionable; has an overinflated regard for herself because she was born into wealth; became a multi-millionaire thanks to the corporate Madison Avenue/Hollywood hype machine, and by starring in crap like the last three Star Wars movies (her performance was twice nominated by the Razzie Awards). So, like Paris Hilton, it's easy to forgive her for being an ignorant dumbass. Hell, I said some pretty stupid things at her age too, and I said them without the benefit of a Harvard education! But unlike my youth and most likely YOUR youth, ol' Natalie is living in a fishbowl and was brainwashed into thinking her yap is meaningful.
As for the rest of you filthy hardworking sluts out there who only work for money, especially you despicable whores who cross the US border to work for money; you're nothing but a bunch of prostitutes! If you really had any regard for yourself, you'd stop "selling out" and get born into a wealthy family just like Natalie Portman. I wonder how much money Natty wants to make her next film?
I was going to credit ChinaDaily.com.cn for directing me to this story, but it appears that they stole the whole damn thing, and without credit, from msn.com writer Jeanette Walls and her Gossip column. You should check it out, as Jeanette also talks about Horror Director/Producer Eli Roth (CABIN FEVER, HOSTEL, 2001 MANIACS) and the possibility of the original cast of THE X-FILES getting back together again. Also, check out the msn.com article by Devin Gordon, Horror Show. Devin attempts to answer the historical question, "Why is Horror so popular in times of War?"
---
PEACE AND LOVE, BUT REMEMBER THERE ARE ASSHOLES AMONG US
A bunch of ravers in the Seattle, Washington, USA, area, held a theme party where they dressed up like zombies and danced the night away. That's very cool and one of the cool things about such parties is that it's pretty open to everyone, which is as it should be to your fellow human beings. Then one asshole named Aaron Kyle Huff, came in dressed as a bandito and murdered six people before blowing his head off, when faced with cops. He had one offense prior to this, and that was for blasting away at the head of a dead moose at an art exhibit. Huff will not be remembered for his bravery.
I speak for myself and our feoamante.com contributors in saying that our hearts go out to the folks in the rave community who were dealt this ugly card.
Full story at Brietbart.com.
---
2001 REVIEWS
Do you want to know what our reviewer, E.C.McMullen Jr. thinks of the new Robert Englund movie, 2001 MANIACS? Come on now, do you? Well, my bud, Robert S. Rhine, of GirlsandCorpses.com, got me the advance review copy so I could write it for his site. So I can't tell you about Director Tim Sullivan's new movie, 2001 MANIACS, here, but I CAN tell you about it HERE!
And while we're at it, here is a Girls and Corpses style photo shoot of two of the actresses from 2001 MANIACS, Christa Campbell (THE DRONE VIRUS, MANSQUITO) and Wendy Kramer: PHOTOS
Plus, an interview with Tim Sullivan, director and co-writer of 2001 MANIACS.
---
From Gris Grimly
GRIM IS OUR GRIST
If you plan to be in Los Angeles, California this week, you may want to know about the following.
Gris Grimly will be signing his new book, WICKED NURSERY RHYMES II from 10pm to Midnight at the Los Angeles County Museum of Art (LACMA)
5905 Wilshire Blvd.
Los Angeles CA 90036.
NEW original art and NEW limited edition prints will be on display and for sale in the museum from March 30th - April 2nd.
Visit Gris at MadCreator.com.
---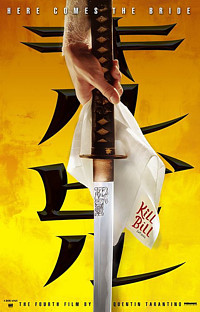 HAPPY HORROR THRILLER BIRTHDAYS TO -
No introduction needed here, The Man:
Writer/Director/Producer/Actor Quentin Taratino (RESERVOIR DOGS, PAST MIDNIGHT, PULP FICTION, FROM DUSK TILL DAWN, LITTLE NICKY, KILL BILL Vol. 1, KILL BILL Vol. 2, SIN CITY, HOSTEL and more) is 43.
And on Sunday
Today's birthday girl has finished shooting on the upcoming PIRATES OF THE CARRIBEAN sequels so she'll be getting Birthday greetings for at least two more years here. And though younger than Natalie Portman, she also isn't prone to say really foolish things out of ignorance. Then again, she isn't attending Harvard yet, so give her time. Happy Birthday to,
Actor Keira Knightly (INNOCENT LIES, THE HOLE, PIRATES OF THE CARRIBEAN: CURSE OF THE BLACK PEARL, THE JACKET) is 22. Kiera shares a March birthday with fellow PIRATES alumni, Jack Davenport.
MARCH 24
From BlackMetal.com
HEAVY METAL: ITS NOT WHAT YOU THINK BUT IT PROBABLY IS
Heavy Metal has long been a stigmatized musical genre characterized by aggressive rhythms, dark lyrics and satanic worship. "METAL: A Headbanger's Journey" is a ground-breaking film that explores the history of how these stereotypes came to be and explains the motivation and truth behind the music through candid interviews with metal icons, including Rob Zombie (SINISTER URGE, HOUSE OF 1000 CORPSES, THE DEVIL'S REJECTS), Alice Cooper (DRAGONTOWN), Dee Snider (STRANGELAND), Ronnie James Dio (HOLY DIVER), Tony Iommi (BLACK SABBATH: SABBATH BLOODY SABBATH), Bruce Dickinson (IRON MAIDEN: THE NUMBER OF THE BEAST), Lemmy Kilmister (MOTORHEAD: IRON FIST), and many more.
"METAL: A Headbanger's Journey" two-disc set will be released by Warner Home Video on May 23, 2006 just in time for metal's most popular music festivals such as Ozzfest, Gigantour and Sounds Of Underground kick off. Order due date is April 18, 2006.
Sam Dunn, a thirty-year-old anthropologist, has been fascinated by the culture of heavy metal since he was twelve years old. In an effort to study its origin and cultural impact, he sets out on a global journey to find out why this music has been consistently stereotyped, dismissed and condemned and yet is loved so passionately by its millions of fans. Along the way, Sam explores metal's obsession with some of life's most provocative subjects - sexuality, religion, violence and death - and discovers some things about the culture that even he can't defend. Shot on location in the U.K., Germany, Norway, Canada and the U.S., this documentary is the first of its kind. It is both a defense of a long-misunderstood art form and a window for the outsider into the spectacle that is heavy metal.
"Heavy metal music has an enormous worldwide following that many people are unaware of because it has been overshadowed by images of violence and mosh pits," said Tehya Kopp, WHV Senior Director, Special Interest Marketing. "This documentary digs into the stereotypes and misconceptions about the artists' motivations behind the lyrics and harsh sound and explores the real side of metal in a way that appeals to metal and non-metal fans alike. It's an eye-opening documentary that is both informative and enjoyable to all audiences."
Check out BlackMetal.com for more news and the best online selection of Heavy Metal anywhere on the planet.
---
GRAVEYARD THEATER, WHERE HORROR MOVIES GO TO DIE
You like Elvira? Yeah, me too. I grew up watching that crazy gal introducing monster movies and her body as well as her BSNL (Better than Saturday Night Live) humor kept me glued to the screen and sitting through the commercials. But, these days, Elvira (aka Cassandra Peterson) is getting a bit long in the tooth and we need some fresh blood - so to speak.
Morella* wants to be that fresh blood. This pudgy goth siren, with big fat Southern Baptist hair, yearns to be the new TV titty pusher - but alas, lacks the energy and talent to actually be on even public access cable. So she winds up "exclusively" on DVD. The comedy, ah ... what can I say about the comedy? It's BBCTV (Beneath Blue Collar Comedy TV) quality humor I guess.
But I don't want this to be a total dump on Morella. So let me just say that the audio and video quality of the Public Domain movies they show, absolutely suck! They not only look like they were recorded off of a VHS tape, but off of a televised VHS video tape. I'm talking smeary third or fourth generation VHS quality. In short, Morella's Graveyard Theater is trying to rip you off.
Long time fans of this site know how much I appreciate what Frank Zappa called "cheepnis". I love cheap Horror movies. I LOVE THE TOXIC AVENGER, IT! THE TERROR FROM OUTERSPACE, WHEN THE SCREAMING STOPS, TOMBS OF THE BLIND DEAD, and so on. And I love really cheesy Horror hosts from the late great Dr. Paul Bearer to Count Gor de Vol. But there is a spirit of fun coursing through all of these Horror hosts, regardless of their budgets. Morella is no fun, not even cheap fun. And it feels like a con from people who are out to make money first from Horror fan "suckers".
Now I understand the economics behind really low budget DVDs. I understand that, if you are going to sell really old or obscure Horror movies that couldn't possibly move at premium prices, your audience has to accept a little bit of lower quality. But shit man, this is the worst I've ever seen! It's unwatchable! Madacy is better! Alpha is way better! Freaking Good Times video has better quality!
Christopher Lee, Bela Lugosi, hell, even old Tor Johnson deserves better than this!
Visit Morella at Graveyard Theater. There's not a whole lot there - kind of my point I guess.
*Not to be confused with the semi-known Morella formerly of the NYC Goth club scene.
MARCH 23
FAMOUS FEOS
Hey there! Hi there! Shutup! You have reached feoamante.com, The Most famous Feo on the Internet!!! - according to search engines, anyway.
I hope you are into Horror Thriller, Mystery, and Suspense, because we have an awful lot of that here and not much else! But as King of the famous Feos, I'm by no means the only one, or even the most important. There are other Feos out there ranging from artists to - well, mainly artists.
Fortunately today's famous Feo (besides me) is also a scientist at Loughborough University in the United Kingdom - which is England - or perhaps Great Britain, whatever they are calling themselves these days. Today's Feo is into some seriously bleeding edge science as you'll discover when you visit the page of Feo Kutsmartsev.
Long time visitors know that I showcase a new "Famous Feo" every week. But if yer new here, then check out Famous Feos. Only seven so far, but I'm still looking!
---
QUICK BITE
Horror writer Douglas Clegg (THE INFINITE, NECROMANCER) tells his peeps that he is just buried in writing the sequel to his novel, PRIEST OF BLOOD. The new tale, LADY OF SERPENTS, promises to be darker, way darker. The novel is scheduled to come out in September 2006. Check out Douglas Clegg's website and join his newsletter so you can get all the info!
---
SATAN RETURNS FOR 2006
It's the Graphic story collection that just won't die! Perhaps it's because of the sick and twisted tales of writer Robert Steven Rhine, who made this tribute to his old and beloved E.C. comics from the 1950s. Perhaps its because of the outstanding crew of the top comic artists in the world that Rhine got to illustrate the interior and covers. One thing it damn sure ain't, is the Forward that yours truly wrote for the comic.
Whatever is the driving impetus behind Robert Steve Rhine's SATAN'S 3-RING CIRCUS OF HELL, this thing is big and still getting coverage in International magazines. Look for the April 2006 issue of TOTAL GUITAR magazine and their coverage of SATAN'S 3-RING CIRCUS OF HELL, as well as Robert's other operation, GirlsandCorpses.com.
Check out Satan's 3-Ring Circus of Hell.
---
MONKEES JUST FLEW OUTTA MY ASS!
In the U.S., we have this cable network called the Lifetime Network. The Lifetime Network is this mealy, mewling, men are bastards or maniacs, paradigm of story telling. On various Lifetime talk shows, the yap cuddles around their breasts, their vaginas, their weight, and what rotten bastards men are; with the occassional purr about their children and those handsome, wealthy bad-boy actors. It is so high in self-congratulatory estrogen, that other women's networks, like Oxygen, were created for all of the other women who can't stand the stomach turning mush of Lifetime.
Well, maybe all of that is about to change.
Maybe.
Lifetime is about to release their first Horror movie, this March 26 (check yer local listings). Now Lifetime has - sparingly - made mild little supernatural tales in the past - 2005's HAUNTING SARAH, comes to mind: but this is the first time, that I'm aware of, that they have actually put up the money to MAKE their own Horror Thriller.
The tale of a family pursued, during a storm, by a homicidal maniac, is called NIGHT OF TERROR (and yes, CAPE FEAR comes immediately to mind). Starring Mitzi Kapture Donahue (HOUSE II, THE VAGRANT) as the kind of Mother next door you would LOVE to have as someone else's mother next door! And Nick Mancuso (BLACK CHRISTMAS, NIGHTWING, DEATH SHIP [1980], REVELATION, TIME OF FEAR).
The tale remains pure Lifetime. The victim is, of course, the woman. A wife who looks as incredible as Mitzi Capture Donahue (!) discovers that her husband (Rick Roberts: THE HAUNTING OF LISA, HAUNTING SARAH) is having an affair. Heartbroken, she sleeps with another man, only to discover that, of all the men she could have picked in the city, she chose a crazed, stalker of a homicidal maniac.
A Horror Thriller movie! Made for Lifetime Network! Its even directed by William Tanner (FLASHPOINT) who knows how to make a suspenseful film. What's more, it's written by Kraig Wenman, who wrote last year's Horror flick, INTERMEDDIO! Lifetime ain't kidding around with this film! It's even got a freaking pedigree! Gahh! Get these damn monkees away from me.
MARCH 22
From Del Howison
DARK DOINGS IN THE B'BANK
If you plan to be in the Los Angeles area this weekend, you may be interested in the following news.
On Saturday, March 25th at 2 p.m., Michael Kurland, Richard Lupoff and Michael Mallory sign SHERLOCK HOLMES: The Hidden Years, and other books.
Then on Sunday, March 26 at 12:00pm, Writer/Director Stuart Gordon (FROM BEYOND, RE-ANIMATOR, KING OF THE ANTS) signs the Masters of Horror DVD "Dreams in the Witch House"; Stuart will also sign the graphic novel of the episode.
Then, if you are spending the week here, at 7:00pm on Tuesday night, Robert England (DEAD & BURIED, A NIGHTMARE ON ELM STREET) will sign his latest flick, 2001 MANIACS! All of this and it ain't even October!
For more information, go to Darkdel.com.
---
WEEKEND OF HORRORS
Creation Entertainment is gearing it up. 2005's FANGORIA'S WEEKEND OF HORRORS was a surprise hit for entertainment convention company, Creation. Even more of a surprise was the fact that the Horror convention outperformed the tried and true Star trek Convention. This was a surprise to everyone except for Trekkies who feel betrayed and the studio heads at Paramount who handily butchered the long running franchise.
At this year's Weekend of Horror's the celebrity roster is gearing up with the likes of fan favorite Bruce Campbell (THE EVIL DEAD series, SPIDERMAN, SPIDERMAN 2, THE MAN WITH THE SCREAMING BRAIN), Lloyd Kauffman (THE TOXIC AVENGER), Lance Henrikson (TERMINATOR, ALIENS, NEAR DARK, ALIEN vs. PREDATOR), Guillermo Del Toro (MIMIC, BLADE II, THE DEVIL'S BACKBONE, HELLBOY), Bob Clark (BLACK CHRISTMAS), David J. Schow (THE KILL RIFF, THE CROW), Stuart Gordon (RE-ANIMATOR, FROM BEYOND, KING OF THE ANTS), Ethan Dettenmair (SIN-JIN SMYTH - Click on the link for the new trailer!) and his cast as well as many others.
Check out Fangoria's Weekend of Horrors.
---
From Mike Rodin
SIXTH ANNUAL HORRORFIND CONVENTION
"The Spookiest Show on Earth"
August 11-13, 2006

Horrorfind Weekend Six is slated to be our biggest and best convention ever with more top guests, more great events, GIGANTIC costume contest, live entertainment and more SCARY FUN than ever.

We are proud to announce the start of what will be a celebrity guest list to die for. Celebrities like Dee Wallace Stone (THE HILLS HAVE EYES, THE HOWLING, CUJO, THE FRIGHTENERS), Rutger Hauer (THE HITCHER, BLEEDERS, SIN CITY), George Romero (THE LIVING DEAD films), Edward Lee (THE TERATOLOGIST w/Wrath James White), Brian Lumley (NECROSCOPE), Doug Bradley (HELLRAISER), Elizabeth Massie (SINEATER), Michael Laimo (THE DEMONOLOGIST), Brian Keene (THE RISING), and many more.

For more information logon to: horrorfindweekend.com

MARCH 21

HAPPY HORROR THRILLER BIRTHDAYS TO -


Today's Birthday boy has rarely appeared in a film where his character wasn't clearly hardcore in some manner. But in 1992, with a starring role in his first Horror movie, he has taken a decided turn into the realm of Mystery Thrillers, usually hardcore Mystery Thrillers. So Happy Birthday to
Actor

Gary Oldman

(DRACULA [1992], TRUE ROMANCE, ROMEO IS BLEEDING, LEON, THE FIFTH ELEMENT, THE CONTENDER, HANNIBAL, SIN, HARRY POTTER AND THE PRISONER OF AZKABAN, BATMAN RETURNS, HARRY POTTER AND THE GOBLET OF FIRE and more) who is 48.

MARCH 20

BECAUSE I'M JUST SO GODDAMN GOOD
I've been booked to appear on MusicPlusTV's GeekRawk show to talk about all things Horror. It happens Monday, April 3. My interviewer, Kasey, will likely put me on the spot, asking me indepth questions about very specific characters throughout various Horror books and movies. Damn! I can't remember the names of people I met last week!

After today, I'll keep this info posted so you can remember to tune into the show. If you live in a part of the world where you can't get GeekRawk, no worries. They'll have a podcast up on their site, I'm sure.

That is, unless I totally suck - which isn't entirely out of the question.
---
From Times Online
WHO SCARES WINS
The horror movie has risen from the grave. Christopher Goodwin examines why today's audiences are baying for blood.
Just a few years ago, Hollywood had all but declared the horror movie dead, the last drop of blood drained from its lifeless corpse. Even modern masters of the genre such as Wes Craven, who had terrified two generations of audiences with films like THE LAST HOUSE ON THE LEFT (1972), THE HILLS HAVE EYES (1977) and A NIGHTMARE ON ELM STREET (1984), had veered into parody — even self-parody — with SCREAM (1996) and its sequels. Young audiences, it seemed, had become far too wise to the tricks of the trade to be scared any more. Horror had become a laughing matter.
Continued at The Times Online.
---
HAPPY HORROR THRILLER BIRTHDAY TO -
And on Saturday -
Saturday's Birthday boy had an early role with Jack Nicholson (THE SHINING, WOLF), Scatman Crothers (THE SHINING, DEADLY EYES), and Michael Berryman (DEADLY BLESSING, THE DEVIL'S REJECTS). Not a bad ensemble for a movie that was almost, but not quite Horror. The film I'm talking about, of course, is One Flew Over The Cuckoo's Nest, and the actor I'm talking about is
Actor Brad Douriff (EYES OF LAURA MARS, BLUE VELVET, CHILD'S PLAY, THE EXORCIST III, HIDDEN AGENDA, GRAVEYARD SHIFT, CHILD'S PLAY 2, DEATH MACHINE, ALIEN: Resurrection, URBAN LEGEND, BRIDE OF CHUCKY, THE LORD OF THE RINGS: The Two Towers, SEED OF CHUCKY, and a lot more) who is 56.
MARCH 17
TALK CREEPY TO ME
In addition to this website, I now have a new space and blog at MySpace.com/FeoAmante.
Feel free to drop by, read my blog, and leave a comment. If you belong to MySpace AND you have an interest in Horror, Thriller, Mystery, and Suspense, maybe we can become MySpace friends. Truly a loose term.
Why should you talk to me? Well, you should do many things on this site. You should read the reviews we have of books, movies, and comic books, as well as our wonderful articles. You should tip me generously through my PayPal "Pay the Piper" icon to the left. And you should do all of this because I'm one Famous Freaking Feo. Hell, I'm the Shah of Feos!
How famous am I? Well according to the top search engines like Google.com and Yahoo.com, I'm the first return when you do a search for
Feo or
Feo Amante
But being the most popular doesn't make me the most important. And frequent visitors know that I'm trying to spread the word about other Feos in the world. For example, if you like music, Holy crap but there are a lot of famous Feos out there. Check out today's Famous Feo: Lenny Gonzalez's Chango Feo.
---
From Deena Warner
WELCOME TO NOREELA, WE MAY ALREADY HATE YOU
In 2006 Tim Lebbon will be writing an original serial novella, THE BAJUMAN, set in his fantasy world of Noreela. It will be downloadable for free from his Noreela website in 6 weekly installments, starting on May 1, 2006. Sometime in the future, the novella will be available in print from Necessary Evil Press.
Tim's first fantasy novel DUSK was released in January 2006 to wide acclaim. It has garnered praise from the likes of Steven Erikson, F. Paul Wilson, Douglas Clegg, Paul Kearney, K. J. Bishop, Christopher Golden, Mark Chadbourn and Sarah Ash, and received excellent reviews from Publishers Weekly, Kirkus and Library Journal.
In January 2007 the sequel, DAWN, will be released. In the meantime, set 100 years before the events of Dusk, there is THE BAJUMAN.
Korrin is a Bajuman, a race regarded as lowest of the low. They are the Untouchables of Noreela; hated, vilified, spat upon. Korrin accepts this, and it makes him strong. It also makes him a perfect hunter . . . because few people take any notice of Bajuma.
When a rich client from the northern districts employs his help, Korrin already senses something awry. He must find a friend who's been kidnapped; but this is no ordinary missing person. Fod Larima is fodder, descendant of a race that was bred for food over two thousand years before. Like Bajuma, fodder are shunned by most of society.
But unlike the Bajuma, some people still regard fodder meat as a delicacy.
---
KAIJU: IT'S NOT JUST A SNEEZE ANYMORE
In Japan, Kaiju is defined as a giant monster - like GODZILLA or KING KONG - with mysterious origins. What has always been interesting about these giant monster movies is that they are nearly always described in real terms. For all of their impossible size and powers, they are supposed to be real world creatures. No wizard stood on a mountain and conjured these creatures. They come from a lost island in the ocean; they are woken by our powerful weapons; they come from outerspace on their own or has harbingers of an evil alien attack. But they always have a natural reason for their existence and that's what makes them all Science Fiction Horror.
In the last few years, a very interesting revolution in storytelling and film making has come about thanks to personal computers. If you can scrimp and save your your beer money for a few months, you can buy the same software that the major studios use to make their CGI. If you can swear off of your latte's for six months, you can buy a very nice computer to run that software upon. After that, its all about your time and any time your friends can spare.
Which is exactly what has happened with NEGADON: The Monster From Mars!
Check out the gallery and trailer at NegadonAttacks.com
Now the Future of Humanity Rests With Just One Man!
AND HIS ROBOT!
---
HORROR TOONS
And speaking of Kaiju, today's Horror toon comes from political cartoonists, Jeff Parker, of Florida Today.
Then, from political cartoonist, Scott Stantis of the Birmingham News, there is an homage to Marv Newland's 1969 classic, Bambi Meets Godzilla
---
From BlackMetal.com
THE EMPORER IS DEAD, LONG LIVE ZYKLON
ZYKLON, the Norwegian band featuring EMPEROR members Samoth (guitar) and Trym (drums). Have uploaded the title track of their much-anticipated third album, entitled "Disintegrate", at: MySpace.com/ZyklonTribe.
The CD was recorded at Akkerhaugen Lydstudio in Norway and was mixed at Studio Fredman in Gothenburg, Sweden. A May 15 release via Candlelight Records is expected. Samoth had the following to say about the upcoming CD: "It might not be all that different [to the previous albums], but we have overall better songs, and it's definitely going to be a solid follow-up to 'Aeon'. There are a few songs that are more on the atmospheric side, and these will have strong industrial elements to them. In general, there will be the good old mix between fast, intense brutality and more groovy and heavy stuff. A few songs might have a few more melodic parts as well, actually."
Continued at BlackMetal.com/News.
MARCH 16
HORROR MOVIE FAN? YES. BUT ALSO A FREAKIN' KOOK!
HORROR FAN IS CONVICTED
Okay, so how many people on the planet have intentionally read a Horror story or watched a Horror movie? I'd say at least one billion out of 4 billion is a conservative estimate.
Now how many of those folks are actual Horror fans? I'd say a few hundred million out of the entire planet is also a conservative estimate.
Now out of all of those people, how many have actually killed because they wanted to be like the evil they read or saw onscreen? A few hundred thousand would be a reasonable estimate, but as far as I can find on the world wide Internet archive of news, just one guy. You would think, laws of averages and all, that the number would be far higher. Way higher. But it seems just one.
More people have blamed video games for their murderous rampages. Dig-Dug is not for impressionable minds.
Tens of millions of people have killed, tortured, and thoroughly enjoyed their carnage, all while doing it in the name of their God.One Horror film fan has been convicted in Great Britain for killing 4 strangers. An act, he says, that was based on his love for Horror movies.
Is the media going to weigh in with their own ignorant opinion of all of this? I wouldn't be surprised. Hopefully, this won't go anywhere in the media beyond this one story. Hopefully the media types are too busy manufacturing their irrational hatred of President Bush and keeping the foaming conspiracy monkeys busy with that. We'll see.
---
CORROSION IS GROWING
When Horror Publisher and Horror writer, Shane Ryan Staley, first announced his new blog I thought, "Oh great. Another hard drive wasted on personal political opinion. Argh! Leave me alone you foul bastards!" But I signed up anyway because it was, after all, Shane Ryan Staley.
What Shane does at PROJECT CORROSION is to blog stories. Explicit tales - the "Parental Advisory" type explicit tales - if you will. They are weird, bizarre, never quite twisted (although that's a matter of personal taste), and often some damn funny shit!
Ah yes, funny shit. We don't have enough funny shit in the world. You know what I mean when I say funny shit, right? Like the time yer little brother acted like he was some stand up comic and you found yourself laughing with him, not at him. You started laughing so much you thought you'd crap your pants. Your wife suddenly felt the urge to freely belch out, "I'm going to pee my pants!"
Funny shit: Stuff so funny you lose bodily control.Only Shane's stuff is horror too. So just as yer starting to laugh, Shane shoves a literary knife in your throat, catching your laugh in mid-choke. Can you visualize it? Heh! Yeah, a knife sticking in a happy throat, that's pretty damn funny!
While I'm sitting here wondering why Netflix won't advertise at feoamante.com, why don't you visit Project Corrosion.
---
YER BOUND TO LIKE IT
Horror writer, David Thomas Lord, writes to tell us that his publisher, Kensington Books, will release his long awaited sequel to BOUND IN BLOOD, BOUND IN FLESH, this August. Long wait! Best re-read the original if you can find it.
After BOUND IN FLESH is BOUND IN HUNGER, which will focus on black vampire lesbians, and with a greater emphasis on sex and violence than the first book - something to appeal to most lesbians as well as most guys. In fact, its amazing just how much lesbians and straight guys have in common.
Anywho, David has been given a free reign, so to speak, to get really creative with his sequels to this series. After BOUND IN HUNGER comes, BOUND IN THIRST. So Vampire fans have a few years to really get into his series.
Also look for David Thomas Lord's novella in the upcoming TRYPTICH OF TERROR to be released this September.
---
YOU GOT ANOTHER THING COMIN'
You like Howard Hawks, THE THING? I know I do. Of course, my favorite is John Carpenter's THE THING. That rawks even today! John W. Campbell's legendary short story, WHO GOES THERE? was a blend of Science Fiction and Horror, and has been made into two movies, a couple of comic book series (one good, one crap), and even a computer game! So obviously it has an audience! If you happen to be one of those who loves THE THING, and if you live around or plan to be in the Los Angeles area this weekend, on Saturday, March 18th at 2 p.m., Pete and Andrea Von Sholly will sign their model of "The Space Thing", based on the legendary John W. Campbell tale of Antarctic horror.
The signing takes place in Burbank, California at Dark Delicacies Bookstore. Check out their website for more information.
Visit Pete Von Sholly.
---
SCI-FI BOYS


Would it surprise you to know that many of the folks in movieland and literature who create the most stunning Horror, are also known for creating the most stunning Science Fiction? That's what writer and director, Paul Davids (

ROSWELL

) wants you to know. So he made a documentary called THE SCI-FI BOYS.

The DVD, to be released this month on the 28th, is a stew of various Sci-Fi boys in the Horror genre, featuring such luminaries as
Peter Jackson (DEAD ALIVE, THE LORD OF THE RINGS, KING KONG),
Steven Speilberg (JAWS, JURASSIC PARK, THE MINORITY REPORT),
Ray Harryhausen (20 MILLION MILES TO EARTH),
Ray Bradbury (THE BEAST FROM 20,000 FATHOMS, IT CAME FROM OUTERSPACE),
John Landis (AMERICAN WEREWOLF IN LONDON, INNOCENT BLOOD),
Stephen Sommers (DEEP RISING, THE MUMMY, THE MUMMY RETURNS, THE SCORPION KING), and a lot more folks.

The DVD also contains a number of short films as well as interviews, so even for a devoted Horror fan, like myself, this may be one damn cool DVD!

MARCH 15

HORROR MOVIES YOU CAN'T FIND ANYWHERE ELSE


As broadband users outgrow their dial-up cousins, the promise and potential of the Internet becomes clear: HORROR MOVIE HEAVEN! To understand what I'm talking about, check out this article at cnet.com

It's the Site of the Living Dead as Cult Films hit the Web.
---
HAPPY HORROR BIRTHDAYS TO -
Director Renny Harlan (A NIGHTMARE ON ELM STREET 4, DIE HARD 2, DEEP BLUE SEA, MINDHUNTERS, EXORCIST: THE BEGINNING) is 47.
Director David Cronenberg (SHIVERS aka THEY CAME FROM WITHIN, RABID, THE BROOD, SCANNERS, VIDEODROME, THE FLY, THE DEAD ZONE, DEAD RINGERS, eXistenZ, SPIDER) is 63.
Musician/Actor Dee Snider (Band: TWISTED SISTER. Movies: STRANGELAND, DEEPWATER) is 50.
Horror writer and editor, Eunice MaGill (Columnist for Dark Wisdom magazine) is 40.
MARCH 14
QUICK BITE
Horror Author and former feoamante.com reviewer, Harry Shannon, recently sat down for an interview with Brian Corder of Toxic Shock TV. Shannon discussed his novels, the status of his first horror film DEAD AND GONE, and a host of other devilish things.
Check out the interview at ToxicShock.tv.
---
ST. PATTY'S CORPSE DAY
In case you haven't been there yet, GirlsandCorpses.com has kicked off March with their special St. Patty's Day issue. And to celebrate, they have two of the stars from the Eli Roth (CABIN FEVER, HOSTEL) production of 2001 MANIACS: actresses Christa Campbell and Wendy Kremer. The film also stars Robert Englund (DEAD & BURIED, A NIGHTMARE ON ELM STREET, URBAN LEGEND, STRANGELAND, PYTHON) and Lin Shaye (ALONE IN THE DARK [1982], A NIGHTMARE ON ELM STREET, CRITTERS, THE HIDDEN, HOOD OF HORROR). What's more, they've got an interview with the director and co-writer of 2001 MANIACS, Tim Sullivan (THE DEADLY SPAWN, HOOD OF HORROR).
If you still need more encouragement than that to visit them, then screw YOU!
---
THE V FOR VENDETTA, VENDETTA
Nothing tarts up a product's marketing like controversy. Some movie companies want to avoid that, like Dimension Films and Miramax did with EQULIBRIUM, only to have the film find an audience on DVD and wind up more popular than the bloated sequels in the MATRIX series.
The free ideas of public opinion in the marketplace? That's marketing for you, and it has to be one hell of a lot better than what the Warner Bros. marketing team came up with for V FOR VENDETTA: "From the creators of the Matrix trilogy" (?!?!?)
E-ew-Gawd! Could you possibly poison the water any more? I mean, those crappy MATRIX sequels and the special multipack DVD boxes of THE MATRIX sequels are still gathering dust on the shelves with no new pressings since their inception! Crikey, mate! Somebody put that crap in a pile and blow THEM up!
Speaking of THE MATRIX, yer living under a rock if you don't know that the once bullet proof Warchowski Bros. are doing mere writing service these days with their latest opus, V FOR VENDETTA.
Everybody has got an opinion about it, many of whom have neither seen the movie or read the comic, so they have no damn idea WTF they're talking about. Ignore those clods. When they can have an informed opinion, then I'll listen. Instead, I'd like to offer yall these links from folks who know.
The creator of V For Vendetta and the best damn Comics writer to ever live, Alan Moore!
NY Times article: THE VENDETTA BEHIND "V FOR VENDETTA"
Blather.net: THE ALAN MOORE INTERVIEW
Richard Roeper: DON'T FALL FOR FALSE MASK BEING PUT ON VENDETTA
MARCH 13
FAMOUS FEOS
I'm da King of da Feos on the Internet - at least according to search engines like Yahoo and Google.
By this time, a small number of you have wrote in to ask, "Number one? Number one in what?"
Feos, you clods! I thought I've been making that pretty damn obvious! If you go to Google.com and you type in
Feo
then out of 3 million plus possibilities, this website is the #1 return at the top of the list. More people are writing about Feo than are writing about, say, Chlorella!
If you are looking for a Horror Thriller website and you go to Yahoo.com and you Search The Web for
Horror Thriller
feoamante.com is the first return you get out of a possible 26 plus million choices.
If you search for, say,
Top Ten Scary Movies
Then you get feoamante.com at El Numero Uno, out of a possible 2 plus million options.
And so on. What's more, I'm an artist, musician and was once a stand-up comic. What's odd about all that is that a lot of Feos out there seem to be involved in art, music or festivals or comedy or some kind of fun. Coincidence? I-Think-So! That's what a coincidence IS! In fact, it is the very definition of "Coincidence!" In essence, we Feos are just fun people! Check out today's famous Feos, the comedy troupe, Feo y Loco.
---
JULIE McGALLIARD
GOTHOUSE
Ennui, lots and lots of ennui. Oh, and narcissist introspection all wrapped up in a bitter inferiority complex posturing as elitism. If there is one thing worse than listening to Goth poetry, its probably being stuck listening to what intolerant goths (and there is no other kind) think of everyone else. And if there is something worse than that, its hearing their own little self-debasing mewls. As far as I know, cartoonist and admitted Goth, Julie M. C. McGalliard (HELL HOUSE review) is the only one who can make it funny. If you're a Goth and can laugh at yourself and your friends, then check out Julie's Goth House.
This month: High School of the DAMNED. At the least, you may get a derisive snicker.
If you're not a goth, then don't bother. You'll probably just sit there staring at the screen, looking stupid, scratching your head and thinking, "I don't get ..."
Oh crap! I'm a freaking goth!
---
MIKE PHILBIN
From Mike Philbin
MONDO BIZARRO
Oxford, UK-based writer/artist, and frequent feoamante.com reviewer, Mike Philbin, started Chimericana Books in 2005 to explore the subversive side of books publishing in defiance of the mainstream rules of engagement with the reader. Chimericana Books are written for an adult audience who are bored with the formulaic contrivances of the modern publishing machine and would like to experience something that is beyond the crushing dullness of marketable mainstream fiction, something with edge.

No authorname, no title or no ISBN on these five bizarro novellas from Chimericana Books, what's that all about?
Continued at Chimericana Books
---
HAPPY HORROR THRILLER BIRTHDAYS TO -
And on Saturday -
Thanks to THE X-FILES, gory "forensic" thrillers are huge on television prime time.
"What killed this victim?"
"I dunno, let's pull out his guts and dissect his brain! Like This!"
Stepping into this new paradigm, and making a career of it, is today's birthday boy,
Actor

David Anders

(

ALIAS [TV], THE SOURCE, CSI: CRIME SCENE INVESTIGATION, CHARMED

) who is 25.
Writer/Director

Christophe Gans

(

NECRONOMICON, CRYING FREEMAN, LE PACT DES LOUPS

) is 46.
Also, according to The History Channel.com, today in 1818, what is considered to be the story that birthed both Horror and Science Fiction was published. Mary Shelley's MODERN PROMETHEUS or FRANKENSTEIN was born into the world. Mary was only 21 at the time. Let's hear it for early achievers!

MARCH 10

TERATOLOGY FUN
Fans of Ed Lee and Wrath James White's novel, THE TERATOLOGIST, are going to love this video, a Teratologist's delight. Be warned, the video you click to is digusting in the extreme, yet a medically accurate document of a real, though rare, condition.

"I could shake hands with something inside this man!"
---
THE HILLS HAVE CLOSE-UPS
I spoke to Make-up artist extraordinaire, Greg Nicotero (MINORITY REPORT, KILL BILL 1 & 2, THE AMITYVILLE HORROR, HOSTEL) of KNB EFX, last night before the premier of THE HILLS HAVE EYES. He told me how most of the movie was shot in the Morrocan desert, not in New Mexico. I thought that was an odd choice, but then again, it's not an American movie, only an American distributor, Fox Searchlight. I asked Greg if he had fun on the movie. His answer? "It was hard."
Me: Hard?
Greg: "Real hard."
We were talking on the elevator. At that point the doors opened and we both had to get to our people.
When I saw the movie though, I immediatly knew what he meant. Director Alexandre Ajo had extreme closeups of the made-up mutants that are the EYES in THE HILLS. Makeup effects are never meant to have closeups like this. Seeing a full body shot walking around, that's one thing. Even seeing a creature in a half body shot from the chest up or even, occasionally, a head shot, that can be dealt with. Aja wanted close ups of the eyes of the mutants, closeups of the faces on a 50 foot wide screen! There is no way you can edit a movie on a 50 foot screen and worse, no matter how close you try to get to the face of the actor you are putting into rubber prosthetics, there is no way your human eye, even with a magnifying glass, can compete with the macroscope quality of having someone's face blown up thousands of times larger on a theater screen.
I wonder if Greg was nervous?
Check out my review of THE HILLS HAVE EYES at GirlsandCorpses.com.
---
MICHEAL BERRYMAN
BERRYMAN SNUBBED
Last night in Hollywood at the Arclight Cinerama was the premire of the new THE HILLS HAVE EYES. Actor Michael Berryman (DEADLY BLESSING, THE DEVIL'S REJECTS), star of the original THE HILLS HAVE EYES as well as the sequel, showed up where, for reasons that must have made sense to someone, the audience was being split up into groups of 25 and given the livestock treatment in these bizarre cage setups (the setups had nothing to do with the movie, as it turned out). Anyway, as Berryman (who needed no makeup in the original. Thank you, Hypohidrotic Ectodermal Dysplasia) tried to get in, a number of Office Space type drones blocked him, telling him that he must go to the back of the line.
A number of fans at the head of the line, including Robert Rhine (GirlsandCorpses.com) who was there for his magazine, tried to let Michael in with his caged-in group. But the drones wouldn't hear of it. The 25 head of cattle rule must stand!: at least until their Judas goat led them into the theater. Michael was cool: more hurt than angered. Then fans started chanting ever louder, "But he was Pluto, you a**holes!", and before it got loud enough for Access Hollywood or E! to hear, someone quickly ran over to bring Michael in and give him his dues.
I was at the Arclight last night and saw the movie, but I covered it for GirlsandCorpses.com instead of here (hey, it happens!).
So please check out GirlsandCorpses and my review of Alexandre Ajo's THE HILLS HAVE EYES.
Also check out Staci Wilson's INTERVIEW: Michael Berryman, at About.Horror.com.
MARCH 9
THE TOP TEN SCARY MOVIES OF ALL TIME
Want to know what the top ten scary movies of all time are? Try searching the words Top Ten Scary Movies in Google or Yahoo and you get, Hey! Feo Amante's Top Ten Scary Movies!
Folks around the world recognize feoamante.com as the #1 resource for information on what is REALLY scary out there! And those folks are ... Y'all! So thanks, gang! I really appreciate it!
Apparently, my opinion is pretty damn important to a lot of people. HA! Wait 'til I show this to my wife! Then she'll take me seriously!
And speaking of really scary (before the comment about my wife), have you ever been to reallyscary.com? If not, check out these great folks! They cover a lot of territory I don't, and you should try more than one meal on the menu anyway. There is an entire cemetery full of great Horror Thriller sites out there, and I've included my favorites below in the left hand column. Check out the links in my Horror and Mystery Online column. Trust me. I wouldn't put them there if they weren't great!
Now pardon me while I work on my Top Ten Horror Movies list.
MARCH 8
From Michael Laimo
LAIMO GETS EVEN DEEPER
I'm pleased to report that THE DEMONOLOGIST will be published by DELIRIUM BOOKS as a limited-edition collectable hardcover later this year, as a part of their `Dark Essentials' line. There will be 200 copies, all signed and numbered. As of now, Delirium Books ARE NOT taking preorders for this, as they are only accepting 4-book subscriptions. Later on, a few copies will be made available as single purchases. I will post info as soon as I have it. In the meantime, hop on over to deliriumbooks.com to check out the awesome cover by Mike Bohatch.
Also, on the Delirium Books front, my novel SLEEPWALKER is now sold out. There may be a few copies left at retail from Amazon.com, or another online retailer, but after that, they'll be rising in price. A lot of you have been asking if SLEEPWALKER will be available in paperback, and the answer to that is... perhaps. I'm working on a rewrite right now for a major publisher, and should have news regarding this later in the year.
I'll be at the World Horror Convention in SF in May. If you plan on being there, make sure you stop me and say hello. I'll be there promoting my new novel DEAD SOULS, as well as the DEEP IN THE DARKNESS movie, along with the Burning Grounds Motion Entertainment crew.
MARCH 6
START OF THE MONTH UPDATE
Okay, we have nearly broke the first week of March and this is what's happening.
According to Urchin 5.0, feoamante.com received over 200,000 page views for February 2006 (that's how many pages were actually read by visitors). That was a slight dip from January, but then again, February is three days short of January anyway. If yer still counting hits, that equates to well over 2 million counts. Thanks to all of our visitors who come and enjoy feoamante.com. Be sure to check out my spanky new space at MySpace.com/Feoamante.
And speaking of my new space, I just started this on Friday and here it is Monday and I've already got FIVE new "friends". So let me welcome the following "friends". See, MySpace does this thing where someone asks to be your MySpace friend whether you know them or not. Dubious, right? I don't get the "Why of it", but there you go. So I'm being picky. Many have called, not all are chosen. I mean, you wanna be a MySpace friend, then we gotta share some kind of freakin' interest, right? The first "friend" is Tom. Ahem, well, he IS the creator of MySpace so ... okay!
Next is Terry M. West, who is a guy, and an actual friend - one I've admired ever since I read his skin crawling Horror comic, DREG.
Check out Terry's Space.
Next is Kelly Parks, another guy, and one who has been a friend of mine for so long we call each other Brother. Long time visitors of this website will know Kelly from his movie reviews (check out his latest review of ULTRA VIOLET), as well as his infamous Science Moment. Visit Kelly's Space.
Next is Jonathan Reitan. Jonathan has long been involved with Horror, being a published Horror writer as well as an Assistant Fiction editor at Flesh and Blood Magazine and a Contributing Editor at Dark Discoveries. Visit Jonathan's Space.
Next is Harry Shannon. Harry is a former Book Reviewer and interviewer here at the site, as well as a published author in his own right, and creator of the Mick Callahan series of Horror Detective novels. Like me, Harry is also passionate about his country. Visit Harry's Space.
That's it so far. Have any suggestions? Let me know!
Another thing you should know, is that I'm one hell of a popular freaking Feo! (Don't like my ego? Wait, it gets worse!) In fact, I'm the most Famous Feo on the Internet (See? I told you so. But don't think for a minute that my ego has any control over me), according to the top search engines like Google and Yahoo (My ego doesn't control me, but it does have its legs wrapped firmly around my waist).
But being famous doesn't make you important. After all, Feo is far more than just an oxidized iron bearing molecule (ferrous oxide aka wustite - Fe0), it's also my nickname and the name of a whole bunch of artists, musicians, and wotnot. Today's wotnot is a guy who is starting to make a name for himself in pixelated art. Check out Ubi De Feo.
---
NEGADON ROARS
The giant Japanese monster, Negadon, has been a fan secret ever since the computer generated anime has been in production. Trailers and stills have been passed along the Internet and via emails. But fans at the New York comic-Con got hit with all kinds of Negadon goodness. As for the rest of you clowns who didn't attend, know this:
Central Park Media's Managing Director John O'Donnell and Assistant Marketing Manager Peter Tatara devoted a third of the CPM Comic-Con Panel to NEGADON: The Monster From Mars, a title called "a dream come true" by independent and cult movie portal AintItCoolNews.com and "flawless" by online Godzilla hub MonsterZero.us.
At the panel, O'Donnell and Tatara revealed:
NegadonAttacks.com. The official Negadon: The Monster from Mars website was launched in conjunction with New York Comic-Con and is online. The site currently contains a wealth of Negadon information and images and will be continually updated with more content as the summer nears.
Negadon Kaiju Contest. As Negadon: The Monster From Mars is a tribute to Godzilla, Mothra, and the entirety of the Japanese monster movie genre, CPM wants to give Japanese monster movie fans a special treat by offering them a chance to have their own original Japanese-style giant monster artwork included on CPM's Negadon DVD. From now until March 25, fans may submit their original artwork to NegadonAttacks.com. CPM will be including as many entries as possible on the Negadon DVD.
---
QUICK BITES
Sold Out!
Arvid Nelson, co-creator and writer of spooky Thriller comic, REX MUNDI, tells us that the latest issue, 16, featuring new artist, Juan Ferreyra has sold out. What's more, the collected graphic novel of issues 0-5 of REX MUNDI: The Guardian of the Temple, has sold out as well.
---
HAPPY HORROR THRILLER BIRTHDAYS TO -
If you are a writer and want to read Horror that will REALLY scare you, check out today's birthday boy,
Writer William F. Nolan (THE NORLISS TAPES [TV], TRILOGY OF TERROR [TV], BURNT OFFERINGS, TRILOGY OF TERROR II [TV], HELLTRACKS, BLOOD SKY, THE MARBLE ORCHARD, NIGHT SHAPES, SHARKS NEVER SLEEP, NIGHTWORLDS) who is 78.
And on Saturday -
Writer - Director - Producer, Paul W.S. Anderson (MORTAL KOMBAT, EVENT HORIZON, RESIDENT EVIL, RESIDENT EVIL 2, ALIENS VS PREDATOR) is 41.
Actor Gunnar Hansen (TEXAS CHAINSAW MASSACRE, THE DEMON LOVER, HOLLYWOOD CHAINSAW HOOKERS, MOSQUITO, REPLIGATOR, HATRED OF A MINUTE) is 59.
Actor Frank Novak (SILENT NIGHT DEADLY NIGHT PART II, SLEEPWALKERS, CARNOSAUR, STEPMONSTER, WATCHERS III, RAPTOR, THE FALL OF NIGHT) is 61.
This actor so loves scary stuff that he even directed and produced a documentary about HALLOWEEN - the Holiday! So Happy Birthday to
Actor/Writer/Director Daniel Roebuck (NIGHT SCHOOL, RIVER'S EDGE, PROJECT X, TERROR EYES, THE FUGITIVE, FINAL DESTINATION, THE VAMPIRE HUNTERS CLUB, THE NAKED MONSTER, BUBBA HO-TEP, THE DEVIL'S REJECTS) is 42.
MARCH 3
SUCCUMBING TO THE INEVITABLE
Hey gang, you want to talk to me in a blog type format? Well knock thyself out. I'm now up at MySpace.com. Just go to MySpace.com/feoamante.
Are you into Horror, Thriller, Mystery, and Suspense? Are you a published writer, artist, film maker? Do you have your own space at MySpace? Could you just use all the promotion you can get? Well let me know about it. Go to my MySpace.com blog or write me at Feo Amante and be sure to put in the Subject Line "Feo Reader".
---
From Brett "The Un" Savory
CHIZINE REOPENS TO FICTION SUBMISSIONS
For the first time since mid-2005, ChiZine is once again accepting fiction submissions. We closed for about 10 months due to an extraordinary amount of good fiction we just couldn't pass up. But the last of what we bought last year goes up in the April - June issue, so we're reopening the doors.
We're also welcoming a new fiction editor, M. Thomas, who previously headed up the now-defunct Lenox Avenue (go here and scroll down a bit to check out her little kid pic on the masthead) . We're now buying at our raised rate of 7 cents per word (USD), so competition for publication is bound to be fiercer than ever. Send us your very best.
Go to Chizine/Submissions for more details on how to submit your work.
And hey! There's also a fiction contest! No, I don't mean the contest is just fiction, I mean that ChiZine is having a fiction contest!
---
IT'S HORROR! IT'S HAIKU! IT'S HORROR FREAKIN' HAIKU!
Horror fan, Nicholas Braccia, some time ago, submitted an interview with Horror movie director, Guillermo Del Toro (MIMIC, BLADE 2, THE DEVIL's BACKBONE, HELLBOY) to us and I posted that sucker poste haste! - Especially since Guillermo had nice things to say about the website - sort of. Nicholas writes in now to tell us of his new blog. Horror Haiku! Check it out!
---
HAPPY HORROR THRILLER BIRTHDAYS TO -
Writer - Director - Producer George Miller (CHAIN REACTION, MAD MAX, THE ROAD WARRIOR: MAD MAX 2, TWILIGHT ZONE: The Movie, BEYOND THUNDERDOME: MAD MAX 3, THE WITCHES OF EASTWICK, DEAD CALM) is 61.
Actor Laura Elena Harring (SILENT NIGHT DEADLY NIGHT 3, BLACK SCORPION II, LITTLE NICKY, MULHOLLAND DR., WILLARD, THE POET, THE PUNISHER, ALL SOULS DAY: DIA DE LOS MUERTOS) is 42.
MARCH 2
HAPPY HORROR THRILLER BIRTHDAYS TO -
What introduction is needed here? NO introduction, that's what!
Writer Peter Straub (JULIA, GHOST STORY, SHADOWLAND, FLOATING DRAGON, THE TALISMAN [w/Stephen King], KOKO, THE HELLFIRE CLUB, MR. X, BLACK HOUSE [w/Stephen King], LOST BOY LOST GIRL, IN THE NIGHT ROOM, and more) is 63.
MARCH 1
HOW TO BE ASSOCIATED WITH RIFF RAFF
How is it possible that Horror writer and questionable "Nice-Guy" Matthew Warner (THE ORGAN DONOR, DEATH SENTENCES) could become affiliated with scam artists? How you ask? Well I'm not going to tell you, because Matthew Warner has wrote it all out: In an exhaustive micro-managed minutia of detail.
Take some time off this weekend and read Matthew Warner's My Summer with a Book Doctor.
Now up at Horror World.
---
From Market Wire
HORROR HEAVY METAL FOR THE TROOPS
Flip/Atlantic recording group STAIND has announced plans to perform a series of very special live dates for United States military service members. The multi-platinum band will take time out from their eagerly awaited European tour to play three concerts at U.S. Army installations in Germany.
The shows are scheduled for March 3rd at the U.S. Army Garrison, Mannheim; March 16th at the U.S. Army Garrison, Franconia; and March 17th at the U.S. Army Garrison, Baumholder. The shows at Mannheim and Franconia are part of "Welcome Home" celebrations for troops returning from combat duty in the Persian Gulf Region. The concerts will see Staind performing tracks spanning their career - including their most recent effort, 2005's #1-charting "CHAPTER V."
These special shows are new additions to Staind's much-anticipated month-long tour of Europe. The trek -- which kicked off Tuesday, February 28th in Glasgow -- includes stops in England, France, Germany, Switzerland, Italy, Austria, Denmark, Sweden, Norway, and the Netherlands.
---
HAPPY HORROR THRILLER BIRTHDAYS TO -
Actor Jack Davenport (MACBETH, TALE OF THE MUMMY, THE WISDOM OF CROCODILES, THE TALENTED MR. RIPLEY, THE BUNKER, PIRATES OF THE CARIBBEAN: Curse Of The Black Pearl, MARPLE: THE BODY IN THE LIBRARY) is 32.
Actor George Eads (SPRING, CSI: CRIME SCENE INVESTIGATION [TV]) is 39.
Actor Antonio Sabato (FATAL ERROR, MINDSTORM, SHARK HUNTER, BUGS), who is a leap year baby, is technically 34.
LOVE THIS SITE?




KEEP IT GOING WHEN YOU BUY MY STUFF!