MARCH 31
HAPPY HORROR THRILLER BIRTHDAYS TO -
Writer, Director, and Composer,

Alejandro Amenábar

(THESIS, OPEN YOUR EYES, NOBODY KNOWS ANYBODY, THE OTHERS, VANILLA SKY, REGRESSION) is 44.
Actor

Andrew Bowen

(SUPERNATURAL PIRATE MOVIE, THE HAUNTING OF HELL HOUSE [1999], EVOLUTION, BIG BAD WOLF, BUTTERFLY DREAMING, CONJURER, IMMORTALLY YOURS, THE PIT AND THE PENDULUM [2009], PROTOCOL, ROCK JOCKS, SMOTHERED, HOLIDAYS) is 44.
Writer / Director

Adam Green

(HATCHET [all], SPIRAL, FROZEN, HATCHET 2, CHILLERAMA, HOLLISTON [TV], DIGGING UP THE MARROW, HORRIFIED [TV]) is 41.
Adam shares a March birthday with his CHILLERAMA alumni, Joe Lynch.
Actor

Adrian Holmes

(THE ONLY WAY OUT, VALENTINE, SNOW QUEEN, D.C. SNIPER, JEREMIAH [TV], MELTDOWN, SUPERVOLCANO, COLD SQUAD [TV], CRIES IN THE DARK, THE ANDROMEDA STRAIN [TV], ICE BLUES, FAR CRY, STONEHENGE APOCALYPSE, HUNT TO KILL, PARADOX, RED RIDING HOOD, GONE, PAST OBSESSIONS, THE CABIN IN THE WOODS, BATTLESTAR GALACTICA: BLOOD & CHROME, PRIMEVAL: NEW WORLD [TV], ELYSIUM, WOLVERINE VS. SABERTOOTH [TV], CONTINUUM [TV], DEBUG, A CHRISTMAS HORROR STORY, ARROW [TV]) is 42.
Look for Adrian in the upcoming 2016 Thriller, THE EPITAPH.
Musician

Angus Young

(AC/DC: HIGH VOLTAGE, JAILBREAK, POWERAGE, IF YOU WANT BLOOD YOU'VE GOT IT, HIGHWAY TO HELL, DIRTY DEEDS DONE DIRT CHEAP, LET THERE BE ROCK, BACK IN BLACK, FOR THOSE ABOUT TO ROCK: WE SALUTE YOU, FLIP THE SWITCH, FLY ON THE WALL, WHO MADE WHO, RAZOR'S EDGE, BLOW UP YOUR VIDEO, BALLBREAKER, STIFF UPPER LIP, TNT, BLACK ICE, IRON MAN 2) is 60.
MARCH 30
HAPPY HORROR THRILLER BIRTHDAYS TO -
Actor, Director,

John Astin

(THE ADDAMS FAMILY [TV], NIGHT GALLERY [TV], THE SPIRIT IS WILLING, HOLMES AND YO-YO, SCARED SILLY, TEEN WOLF TOO, RETURN OF THE KILLER TOMATOES!, NIGHT CREATURES, NIGHT LIFE, GREMLINS 2: THE NEW BATCH, KILLER TOMATOES STRIKE BACK!, ATTACK OF THE KILLER TOMATOES! [TV], EERIE, INDIANA [TV], KILLER TOMATOES EAT FRANCE!, STEPMONSTER, THE ADDAMS FAMILY [Animated - TV], THE FRIGHTENERS) is 86.
Look for John in the upcoming 2014, 2015, 2016 Thriller, STARSHIP II: RENDEZVOUS WITH RAMSES.
Writer

Scott Edelman

(

THE GIFT, WHAT WILL COME AFTER, THE HUNGER OF EMPTY VESSELS

) is 60 or something.
Actor

Juliet Landau

(NEON CITY, ED WOOD, RAVAGER, BUFFY THE VAMPIRE SLAYER [TV], TOOLBOX MURDERS, ANGEL [TV], FATAL REUNION, HACK!, HAUNTED ECHOES, ALBION RISING, INSIGHT, THE YELLOW WALLPAPER, FAIRFIELD, DARK HEARTS) is 51.
Look for Juliet in the 2016 Horror, THE TERROR. Also in 2016, HASHTAG.
MARCH 29
HAPPY HORROR THRILLER BIRTHDAYS TO -
Actor

Brendan Gleeson

(TURBULANCE, LAKE PLACID, MISSION: IMPOSSIBLE II, THE TAILOR OF PANAMA, 28 DAYS LATER, DARK BLUE, THE VILLAGE, HARRY POTTER AND THE GOBLET OF FIRE, HARRY POTTER AND THE ORDER OF THE PHOENIX, BEOWULF [2007], HARRY POTTER AND THE DEATHLY HALLOWS PART 1, SAFE HOUSE, THE RAVEN, STONEHEARST ASYLUM) is 61.
Writer, Director

Jeremy Kasten

(THE ATTIC EXPEDITIONS, ALL SOUL'S DAY: DIA DE LOS MUERTOS, THE THIRST, THE WIZARD OF GORE, SUICIDE GIRLS MUST DIE!, THE DEAD ONES, 11-11-11, THE EXORCIST FILES [TV], I'LL HAUNT YOU WHEN I'M DEAD, MY HAUNTED VACATION, THE PROFANE EXHIBIT) is 45.
Look for his upcoming 2016 Thriller, ASSASIN'S CREED.
Writer

J.A. Konrath

(RUSTY NAIL, DIRTY MARTINI, FIZZY NAVEL, FLOATERS, HORROR STORIES, TRUCK STOP, AFRAID, and more) is 55 I think.
Actor

Lucy Lawless

(GINGER SNAPS, SPIDER-MAN, BOOGEYMAN, LOCUSTS, VAMPIRE BATS, DARKROOM, ANGEL OF DEATH, SPARTACUS: GODS OF THE ARENA [TV], SPARTACUS: WAR OF THE DAMNED) is 49.
Actor

Christopher Lambert

(SUBWAY, HIGHLANDER - all of them, KNIGHT MOVES, FORTRESS - all of them, BEOWULF, RESURRECTION, ABSOLON, METAMORPHOSIS, TRIVIAL, THE CHAUFFEUR, GHOST RIDER: SPIRIT OF VENGEANCE) is 59.
Writer/Director Victor Salva (CLOWNHOUSE, NATURE OF THE BEAST, JEEPERS CREEPERS, JEEPERS CREEPERS 2, ROSEWOOD LANE, DARK HOUSE [2014]) is 57.
Actor

Marina Sirtis

(BLIND DATE, WAXWORK II, GARGOYLES [TV - all], STAR TREK: FIRST CONTACT, TERMINAL ERROR, STAR TREK: NEMESIS, NET GAMES, SPECTRES, THE GRUDGE 3, 31 NORTH 62 EAST, ANNIHILATION EARTH, SPEED DEMONS, A DARK REFLECTION, FINDERS KEEPERS) is 61.
Look for Marina in the upcoming 2016 Horror Thriller, LITTLE DEAD ROTTING HOOD. Also for 2016, THE 5th PASSENGER.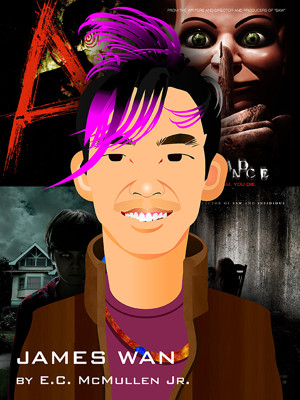 MARCH 28


QUICK BITES
WonderCon: 'The Conjuring' Director James Wan on the Horror Genre, Avoiding Remakes


By

Borys Kit


WonderCon is light on the presence of movie companies this year, but one making an appearance was New Line. The sister arm of Warner Bros. is proving to be one of the only spots for horror from the studio world as it brought out James Wan, the director of its upcoming The Conjuring 2 and producer of Lights Out.

Continued at THR.

Watch the original short film, LIGHTS OUT.

Read our interview with James Wan.

AND

Eerie Illustrations by Adrian Fernandez
by Abduzeedo
When it comes to illustrations there are things that really catch my attention, one of them is when they have a sort of eerie mystery - almost like making me think about existence and solitude. Atmos, a project by Adrian Fernandez captures that quite well, perhaps, due to the lonely character present in all compositions or the dark tone. The truth is, they are quite inspiring.

Continued at Abduzeedo.

PLUS

Why Was 1976 Such an Amazing Year for Horror Movies?
By Cheryl Eddy
Forty years ago, an incredibly powerful collection of horror movies filled American theaters, including The Omen and Carrie. But 1976 was also a time of political turmoil and a great deal of cultural unease. These seemingly disparate facts are likely far more connected that you realize.

Continued at io9.
MARCH 28
HAPPY HORROR THRILLER BIRTHDAYS TO -


And On Sunday -


Actor

Nathan Fillion

(DRACULA 2000, BUFFY THE VAMPIRE SLAYER [TV], FIREFLY [TV], WATER'S EDGE, SERENITY, SLITHER, WHITE NOISE 2: THE LIGHT, DR. HORRIBLE'S SING-ALONG BLOG, SUPER, CASTLE [TV], PERCY JACKSON: SEA OF MONSTERS) is 45.
Look for Nathan in the upcoming 2016 release, HENCHMEN.
Actor

Peter Iasillo

(

IGOR AND THE LUNATICS, SPOOKIES, STREET TRASH, SKINNED DEEP, HELLBILLY 58, THE MERCY MAN

) is 62.
Horror Writer

Steven L. Shrewsbury

(

GODFORSAKEN, THOROUGHBRED, WHORE OF JERICHO

) is 45.
No introduction needed here, The Man:
Writer / Director / Producer / Actor

Quentin Taratino

(RESERVOIR DOGS, PAST MIDNIGHT, PULP FICTION, FROM DUSK TILL DAWN, LITTLE NICKY, KILL BILL Vol. 1, KILL BILL Vol. 2, SIN CITY, HOSTEL, GRINDHOUSE, PLANET TERROR, DEATH PROOF, DJANGO UNCHAINED, THE HATEFUL EIGHT) is 53.
Actor

Michael York

(MURDER ON THE ORIENT EXPRESS, THE ISLAND OF DR. MOREAU [1977], FINAL ASSIGNMENT, THE PHANTOM OF THE OPERA [TV], DARK MANSIONS [TV], UN DELITTO POCO COMUNE, KILLING BLUE, DISCRETION ASSURED, NOT OF THIS EARTH, DARK PLANET, THE RIPPER [TV], THE OMEGA CODE, THE HAUNTING OF HELL HOUSE, MEGIDDO: THE OMEGA CODE 2, CRUSADER, MIKA I ALFRED, TRANSFORMERS: REVENGE OF THE FALLEN, THE JUSTICE OF WOLVES) is 74.
FROM
E.C. McMullen Jr.
WILLOW BLUE
KINDLE

"'Willow Blue' will burrow under your skin and stay there long after you've put the book down."
- Jeffrey Reddick, Creator of FINAL DESTINATION

PERPETUAL BULLET
PAPERBACK

"'Some People' ... may be the standout story in the book."
- John Grant, 2 time Hugo Winner and creator of Infinityplus

ALSO

E.C. McMullen Jr.'s
short story
CEDO LOOKED LIKE PEOPLE
in the anthology


FEAR THE REAPER




PAPERBACK


"This Ray Bradbury-esque is one of the most memorable and one of the more original stories I've read in a long time."
- Reviewer, Amazon

HORROR 201: The Silver Scream
PAPERBACK
A tome of interviews and essays by
RAY BRADBURY,
WES CRAVEN,
TOM HOLLAND,
E.C. McMULLEN Jr., GEORGE A. ROMERO, and many more.