MAY 24
QUICK BITES
John Carpenter returns to the Halloween franchise for new sequel
By Clarisse Loughrey
The iconic filmmaker will join forces with Blumhouse for the film, the studio behind the highly successful likes of Paranormal Activity and The Purge.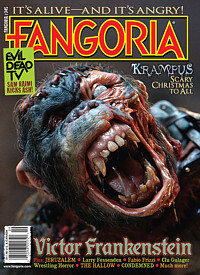 Continued at Independent.
FeoNote: Thank you, Blumhouse! Thank you! Thank you! Thank you! Thank you!
AND

The End Of An Era
By E.C. McMullen Jr.
After 28 years, this morning Fangoria Editor-In-Chief, Michael Gingold just announced on his Facebook page,
"As of today, for the first time in my adult life, I am no longer part of the FANGORIA team.
Deepest thanks to my many collaborators and contributors over the years, and I look forward to working with you again as I move ahead!"

This is stunning news for many Horror fans. Since his humble beginning with Fangoria in 1988, Michael became the guiding soul of the magazine and is in many ways, the virtual Stan Lee of Fangora.
Continued at /Fangoria: End of an Era.
PLUS
If robots are the future of work, where do humans fit in?
By Zoe Williams
Robin Hanson thinks the robot takeover, when it comes, will be in the form of emulations. In his new book, The Age of Em, the economist explains: you take the best and brightest 200 human beings on the planet, you scan their brains and you get robots that to all intents and purposes are indivisible from the humans on which they are based, except a thousand times faster and better.
Continued at TheGuardian.
FeoNote: This is Zoe Williams' opinion. It doesn't matter if you agree with it. What matters is that the issue is now upon us and you and your children will have to deal with it (and writers? You of all people need to stay on top of this. Robots are inarguably the Phones, Autos, and Internet of the 21st Century).
MAY 23
QUICK BITES
Guillermo Del Toro's Tweetstorm About John Carpenter
by Todd Vaziria
Here's the full tweetstorm unleashed by Guillermo Del Toro about filmmaker John Carpenter.

John Carpenter is the writer/director/composer of such films as "Assault on Precinct 13", "Halloween", "The Fog", "Escape From New York", "The Thing", "Big Trouble in Little China" and "They Live".

Continued at Storify.
FeoNote: Thank you, Guillermo! Thank you! Thank you! Thank you! Thank you!
AND
Spectacular sci-fi: the movies with the best future worlds
By David Nield
Science-fiction is one of the most popular genres in the movies - loved by both filmmakers and the people who watch the results - and the term covers a wide range of styles, themes, topics and approaches. They don't necessarily have to involve the future, of course.
However, many do take a look at what our world and society might look like dozens or hundreds of years from now. Here we've gathered together some of the movies we think do this best: read through our selection and see how many you agree with.
Continued at T3.
PLUS
Transhumanism May Change Racism in the Future
By Zoltan Istvan
Despite decades of progress, racism and bigotry are still prevalent in the United States. Often, they even dominate the news in American media, like during the Baltimore riots or the Ferguson shooting. Movements like Black Lives Matter remind us that the society we live in still has many biases to be fought against, but that good work can be done to combat bigotry if people unite against it.
Despite this, the quest to find true equality in the world is about to get more complicated.
Continued at Psychology Today.
ALSO
Karl Urban Says "Dredd's" Box Office Bombing "Represented a Failure in Marketing"
By Ben Kaye
Ever since 2012's "Dredd" received cult status following its home release, star Karl Urban has been a vocal proponent for the film. During a recent roundtable interview for his forthcoming film "Star Trek Beyond", Urban once again went to bat for fan-favorite flick.
Continued at CBR.
MAY 18
SONY GHOSTBUSTERS 2016: STRIKE 2, BALL 1
As a total, it's still not funny, but at least it isn't on the nose *facepalm* cloy and dumb like the first two.
Yeah, I know that isn't high praise, but just watch it.
This is Sony's 3rd "Official" swing at the ball, though they are claiming it is only the 2nd time.
As if to underline just how much the new producers, director, and writer doesn't get it, they even brought back the Sta-Puft Marshmallow man. I don't know if GHOSTBUSTERS 2016 is supposed to be a remake, reboot, or sequel (and at this point I have the feeling the folks making the 2016 Ghostbusters don't know either), but whatever it is they are trying to achieve, it ain't working.
Funniest line goes to Patty at the concert.
More news and trailers at /GHOSTBUSTERS 2016.
MAY 9


QUICK BITES
TASCAM DR-60D Linear PCM Recorder
Okay, fellow film makers, pay attention!

This TASCAM is discontinued but still an outstanding piece of sound equipment favored by indie filmmakers in the field.

The price drop is jaw dropping! On the day of this post, you save $415.99 (69%) off the regular price of $599!
AND
Colin Farrell: 'Fright Night is my greatest success'
By Joe McGovern
During a conversation with EW about the ups and downs in his 16-year film career, Colin Farrell makes a statement that comes as a bit of a surprise. "Fright Night is the greatest success of my career," says the actor, 39, whose remarkable deadpan comedy The Lobster opens next week.
This takes a little explaining — and the backstory includes a lovely, true sentiment that's worth remembering this Mother's Day.
"Fright Night, first of all, is a film I'm proud of," Farrell continues.
Continued at EW.
PLUS
If the Trailer for Korean Film The Wailing Is This Creepy, How Terrifying Is the Movie?
By Cheryl Eddy
In an isolated small town, a determined cop investigates a string of unexplained deaths, as well as his daughter's own mysterious affliction. Are they caused by a foreigner who's suddenly entered the community—or something far more sinister that will require some supernatural countermeasures to defeat?
Continued at io9.
FROM
E.C. McMullen Jr.
WILLOW BLUE
KINDLE

"'Willow Blue' will burrow under your skin and stay there long after you've put the book down."
- Jeffrey Reddick, Creator of FINAL DESTINATION

PERPETUAL BULLET
PAPERBACK

"'Some People' ... may be the standout story in the book."
- John Grant, 2 time Hugo Winner and creator of Infinityplus

ALSO

E.C. McMullen Jr.'s
short story
CEDO LOOKED LIKE PEOPLE
in the anthology


FEAR THE REAPER




PAPERBACK


"This Ray Bradbury-esque is one of the most memorable and one of the more original stories I've read in a long time."
- Reviewer, Amazon

HORROR 201: The Silver Scream
PAPERBACK
A tome of interviews and essays of
RAY BRADBURY,
JOHN CARPENTER,
WES CRAVEN,
TOM HOLLAND,
E.C. McMULLEN Jr., GEORGE A. ROMERO, and many more.