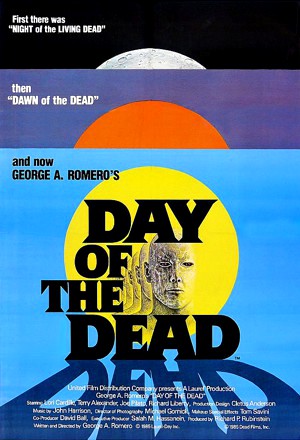 JULY 16




GEORGE ROMERO IS GONE FOR GOOD


February 4, 1940 - July 16, 2017

Whew.
Holy crap this hits me hard.

Everything I consider as good to great Horror cinema is first judged against the bar set by George R. Romero. Even if the movie is from Alfred Hitchcock, Stephen Speilberg, John Carpenter, or David Cronenberg, I consider whether or not they surpass the bar raised by Romero with NIGHT OF THE LIVING DEAD, DAWN OF THE DEAD, and DAY OF THE DEAD.

George was 77. I honestly expected him to live much longer. In truth, he looked a lot older but maybe that's because I can't remember a time when he wasn't known, wasn't famous, wasn't one of the most iconoclastic people of cinema.

I met him at several conventions and gatherings through the years, but at one Fangoria convention, there was a private dinner with George attended only by those who could afford the Fango fee, or were guests of a handful of celebrities. I was a guest.

George made the rounds and finally wound up at my table, we ended the evening. I tried to keep my gushing to a minimum but there was a moment when I told him that his work was the standard by which I judge all others. He chuckled as if he'd heard it a million times. Then he kind shook himself a little, rattled in place a bit. The guy was 6.4 so it was a noticeable sight. What is about to happen?

If memory serves, the conversation went something like this,

George: "You run a Horror website, right?"

Me: "Yep."

George: "What makes my movies so special to you?"

I told him. When I watched his movies I saw through the gore, blood, and gut-eating. In all of his movies the people mattered first. They each had their own story, their own lives. His movies never felt like characters on a stage waiting for the story to begin. So when they entered the picture their life was already in progress when the unexpected horror hit. This made them real so when they lived or died, it mattered. The Horror was palpable.

I told him whose work I measured against his.

Me: "Hitchcock."
George: "Ah, he came well before me."
Me: "Not when I became an adult. You guys hit me around the same time. Speilberg."
George: "Ha! His budgets? I wish."
Me: "Carpenter."
George: "Love John. What's your favorite?"

I had many so I ran down the list of my favorite JC movies and why they were each special.

The conversation went on like that until George's then-wife, Christine Forrest (Stephen King made her the namesake of his car CHRISTINE, later to be directed by John Carpenter), sat with us and reminded him that he had other engagements.

That was then and then was a long time ago.


Oddly enough, this was the week I finally felt my newly minted Fifteen-year-old nephew was old enough to be introduced to his work. We watched NIGHT and DAWN.

Farewell, Maestro.

George A. Romero, 'Night of the Living Dead' creator, dies at 77

AND

Martin Landau is Gone Forever
Okay, it's gonna be one of Those Days.

I grew up watching Martin on Mission Impossible and Space 1999, but he never really connected with me until I first saw Alfred Hitchcock's NORTH BY NORTHWEST. Then he was stark raving mad in ALONE IN THE DARK. More often than not, his movies and almost none of his TV shows did anything for me, but damn there were moments, like Tim Burton's ED WOOD and ROUNDERS, when Landau was so sharp I couldn't imagine anyone else coming close to capturing his character. I know this probably comes cheap from a Horror fan like me, but in my opinion, Martin largely made his mark in Horror Thrillers and though he has a few, I wish he had more.

At 89, he gave life a damn good go.