OCTOBER 15
Welcome to OCTOBER
October is the time for Horror Thriller Obscura.

Every weekday in October I'm going to offer you something to watch and something to read.
Something Indie or forgotten. Something you may have seen in a cover or image but never got around to watching. Or maybe something you never knew existed.
Enjoy the month of Horror Thriller Obscura! It's a #HalloweenMiracle!
MOVIE -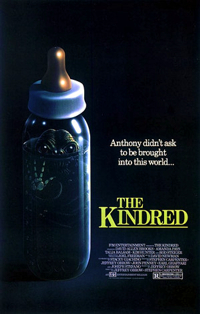 THE KINDRED
Writers: Stephen Carpenter, Jeffrey Obrow, John Penney, Earl Ghaffari, Joseph Stefano
Directors: Stephen Carpenter, Jeffrey Obrow
Review by E.C. McMullen Jr.
Back in 1986, this movie came out starring two Oscar winning actors whose careers were not on the skids. Why they chose to act in this little movie is any one's guess. On the other hand, screen veteran Rory Calhoun had made quite a new name for himself just a few years earlier with his indie release of MOTEL HELL, which became a surprise hit. Hit status never befell THE KINDRED, despite the star power. That said, THE KINDRED is a low budget flick and the kind of B-Grade movie that just captures my heart.
THE KINDRED is also a lost gem these days. A made for cable movie, it is difficult to find as a rental let alone new. Don't be looking for this one on DVD anytime soon.
THE KINDRED starts out wild enough: a car crash and a fiery explosion at night! The accident victim, barely hanging onto life, is secretly sold right out of the ambulance that was supposed to take him to the hospital. The victim is instead brought to Dr. Phillip Lloyd (Oscar winning actor Rod Steiger).
Continued at Feo Amante/Movies/JKL/The Kindred.
---
BOOK -
MIND STORM
by K.M. RUIZ
Review by Mark Worthen
Time was when science fiction and horror had quite a bit of overlap. That's to say that many, many SF tales* fell into the category of cautionary tales. You know what I'm talking about; the kind of story where someone makes a scientific advance and many (or all) people die horribly because of attitudes regarding this particular piece of science or that particular attitude. The (original) movie version of PLANET OF THE APES and its sequel BENEATH THE PLANET OF THE APES are perfect examples of this.
In it, man uses suspended animation techniques to cross great distances of space, which flings the characters into Einsteinian future because they accelerate to nearly the speed of light. But their trajectory moves back on itself, and they unwittingly come to an Earth where apes have taken their place in the evolutionary food chain, and the "primitive" hatred and fear exhibited by the apes for anyone unlike them gets everyone killed in a planet-killing nuclear blast. Though the show was wildly entertaining, despite its many ragged plot holes, it had several preachy moments that were at times difficult to take.
Time travel is part of science fiction. Nuclear annihilation and radioactive zones and mutants are arguably elements of horror.
Continued at Feo Amante/Stories/MNO/Mind Storm.