Review by
Chris Gage
THE HOUSE ON THE BORDERLAND - 2000
Original Story: William Hope Hodgson
Adapted by
Writer: Simon Revelstroke
Artist: Richard Corben
DC/Vertigo
Hardcover Graphic Novel $29.95
THE HOUSE ON THE BORDERLAND came out a couple years ago, so I'm a bit tardy with this review. But I hope you'll still find it useful, because the book is still readily available in comic and book shops, and well worth any extra effort to seek it out.
This hardcover graphic novel is an adaptation of a highly influential, yet little-known horror novel published in 1908 by William Hope Hodgson. Hodgson has never achieved the notoriety of other early horror masters like Poe and Lovecraft, partly because he was killed quite young on the battlefields of World War I, and partly because of the overall ghettoization of horror by the literary community. I admit I knew nothing about the man before picking up this volume, but no less a comics genius than Alan Moore (writer of SWAMP THING, perhaps the best horror comic ever) provides a wonderful background on Hodgson in his introduction.
But I'm not reviewing the novel, I'm reviewing the comics adaptation, which is a whole different animal. Comics adaptations of novels often fail, or at best fall short, simply because of space limitations. The content of one average-length novel would require hundreds of comic book pages to adapt faithfully, so inevitably, the book is shortened and distilled, often resulting in a watered-down Lite Beer imitation that feels weak even to those who haven't read the original work. Can THE HOUSE ON THE BORDERLAND avoid the same fate?
Well, the art is by Richard Corben (DEN, NEVERWHERE, BAT OUTTA HELL album cover) - 85 pages of it - which for me is enough reason to buy it right there. As nice as it's been to see Corben's work on Marvel super-heroes like THE HULK and CAGE, his style has always been best suited to horror. That's proven once again in these pages, which stand right up there with his classic stories for CREEPY and EERIE back in the 1970's. Not many artists can successfully pull off were-pigs and make them scary, but Corben does it with style. He's also a master at portraying human beings descending into madness, their attractive, calm faces distorting into grotesque leers and insane stares. This is a Corben tour de force. I haven't liked his work this much since he illustrated the covers of the FIGHTING FANTASY role-playing books back in the mid-1980's.
The script is by frequent Corben collaborator Simon Revelstroke, and while I can't comment on the faithfulness of the adaptation (having never read the original novel), I very much enjoyed what I saw here. The usual problem of boiling down a complex story is less of an issue in this case, because it seems that, like much of the horror of the early 20th century, the original is short on plot and long on atmosphere. Byron Gault is a recluse, living in an old Irish mansion on the edge of a chasm with only his sister and pet mastiff for companionship (and yes, there are similar suggestions of incest as can be found in some of the works of Poe).
Gault has been troubled by disturbing dreams that seem to place his estate in a nightmarish landscape dominated by a huge, demonic presence that seeks to use his home as a gateway to our world. One day those dreams intrude on reality, as an earthquake widens the neighboring ravine, turning the trickling underground river into a torrent, and unleashing hideous, demonic creatures into our world.
With a cover price of $29.95, this book isn't cheap (perhaps Vertigo will release it in paperback one day), but if you can spare the coin, you won't be disappointed, especially if you're a fan of Corben, who seems to be having a personal renaissance these days. I'd give Corben and Revelstroke props just for bringing a lost classic to light, but this is more than a good deed - it's damn fine horror, and I give THE HOUSE ON THE BORDERLAND four Rabid Fanboys.

Review copyright 2002 by E.C.McMullen Jr.
E.C. McMullen Jr. is a participant in the Amazon Services LLC Associates Program, an affiliate advertising program designed to provide a means for sites to earn advertising fees by advertising and linking to amazon.com.
BOOKS FROM
E.C. McMullen Jr.
WILLOW BLUE


"'Willow Blue' will burrow under your skin and stay there long after you've put the book down."
- Jeffrey Reddick, Creator of FINAL DESTINATION

PERPETUAL BULLET


"'Some People' ... may be the standout story in the book."
- John Grant, Infinityplus

IN OTHER BOOKS
HORROR 201: The Silver Scream
PAPERBACK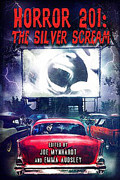 A tome of interviews with
RAY BRADBURY,
JOHN CARPENTER,
WES CRAVEN,
TOM HOLLAND,
E.C. McMULLEN Jr.,
ED NAHA,
GEORGE A. ROMERO, and many more.

Robert S. Rhine's
SATAN'S 3-RING CIRCUS OF HELL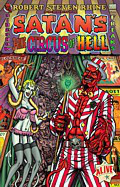 Forward by
GAHAN WILSON,
FEO AMANTE.
Featuring comics by
WILLIAM STOUT,
HILARY BARTA,
STEVE BISSETTE,
FRANK DIETZ,
JIM SMITH,
TONE RODRIGUEZ,
FRANK FORTE,
ERIC PIGORS,
ALEX PARDEE,
MIKE SOSNOWSKI,
OMAHA PEREZ,
DAVID HARTMAN,
D.W. FRYDENDALL,
SHANNON WHEELER,
VINCENT WALLER,
NENAD GUCUNJA,
STEVEN MANNION,
and more!