Review by
E.C.McMullen Jr.

RASEN

aka

THE SPIRAL


- 1998
Omega Project / Kadokawa Shoten Publishing Company, Ltd. (Japan) / Golden Scene (Hong Kong)
Ratings: Hong Kong: IIB / Singapore: PG
RASEN is the direct sequel to the original Japanese RINGU, released the same year as RINGU in a double bill and takes place immediately where RINGU leaves off.
Hiroyuki Sanada (RINGU, RINGU 2), returns as the dead Ryuji Takayama. Killed by the ghost, Sadako Yamamura in the first film, he returns in RASEN: THE SPIRAL as a corpse that his good friend and colleague, Mitsuo Ando (Koichi Sato: CHÔ SHÔJO REIKO, UTSUTSU, INFECTION), must perform an autopsy upon. But like his deceased friend, Mitsuo has his own demons. His son drowned two years before and Mitsuo was unable to help him. Curiously, little is said of the Mother and though Mitsuo grieves greatly over his son, the life of the mother means nothing to him. In one scene, he finds that his wife and son are alive, yet her face is never seen, only his son. This bit in and of itself is creepy.
Two years later and Mitsuo toys with the idea of suicide, but can never bring himself to actually do it. His exhausted mind produces hallucinations and in those Ryuji comes to life.
The police investigating Ryuji's death lead Mitsuo to his girlfriend, the woman who discovered Ryuji's body, Mai Takano (Miki Nakatani: RINGU, KAOSU, KANSEN). Mai is shy but is attracted to Mitsuo's kindness and the fact that he is the only connection she still has with her beloved Ryuji.
Finding a bit of escape from his bitter loneliness, Mitsuo allows Mai into his life, although their reasons for coming together are different from each other.
Mitsuo hears about the video, finds it, watches it, and immediately destroys the tape. He also comes across a very odd clue. Ryuji's tissue samples come back from the lab and he discovers that Ryuji died from a cardiac infarction: a major artery leading from the heart was blocked causing a heart attack. The blockage was a cancerous tumor caused by a virus.
What makes THIS problematic is that the four youths from the first movie, who all died on the same day at the same hour and minute, also had the exact same tumor in the same place and died by the same cause. An investigation finds that everyone who has seen the tape has had the same cancer, and it kills in seven days. Another piece of Ryuji's tissue is an ulcer caused by, of all things, a piece of paper. There is writing on the paper and Mitsuo recognizes that it is Ryuji's handwriting and one of his encryption codes.
This second movie was written and directed by Jôji Iida (ANOTHER HEAVEN) based, as the first movie, on the novel by Kôji Suzuki (Books: DARK WATER, RING). Kôji's work has been a huge influence on Asian Horror cinema for nearly the past decade.
Where the first movie was supernatural, RASEN takes on a more scientific approach: that the cause of death is a unique form of viral infection. The genetic code for the virus is contained in the video. The eye watches it. The brain records what it sees, decodes the viral chain and creates the genetic code within the body, thus creating the virus, thus the video creates the cancer causing virus in the body.
Yes, it tries to come off as scientific but how Sadako was able to do all of that, WHILE DEAD, keeps it in the supernatural realm. So there is some immense confusion in this movie as Jôji tries to bridge the world of the supernatural, i.e. FAKE, and science.
As in the first RINGU, tension slowly builds as Mitsuo discovers new things not mentioned in the first movie. This is all good but at the same time some of it contradicts the logic of the first one. It's entirely fine to discover in a second movie that someone from the first film was wrong about something. But if your contradictions question the very existence of the first movie's plot, then the sequel comes apart. RASEN plucks the string of that suspension of disbelief, without ever actually breaking it. Though not as good as the original, RASEN is still a worthy film in the series.
Three Shriek Girls.




This review copyright 2007 E.C.McMullen Jr.
E.C. McMullen Jr. is a participant in the Amazon Services LLC Associates Program, an affiliate advertising program designed to provide a means for sites to earn advertising fees by advertising and linking to amazon.com.
BOOKS FROM
E.C. McMullen Jr.
WILLOW BLUE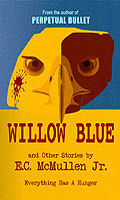 "'Willow Blue' will burrow under your skin and stay there long after you've put the book down."
- Jeffrey Reddick, Creator of FINAL DESTINATION

PERPETUAL BULLET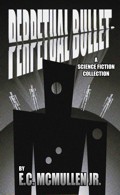 "'Some People' ... may be the standout story in the book."
- John Grant, Infinityplus

IN OTHER BOOKS
E.C. McMullen Jr.'s
short story
CEDO LOOKED LIKE PEOPLE
in the anthology
FEAR THE REAPER


"This Ray Bradbury-esque is one of the most memorable and one of the more original stories I've read in a long time."
- Amazon Review
HORROR 201: The Silver Scream
PAPERBACK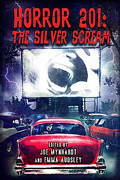 A tome of interviews with
RAY BRADBURY,
JOHN CARPENTER,
WES CRAVEN,
TOM HOLLAND,
E.C. McMULLEN Jr.,
ED NAHA,
GEORGE A. ROMERO, and many more.
Extensively quoted in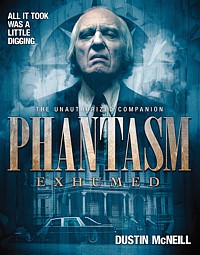 PHANTASM EXHUMED
The Unauthorized Companion

Robert S. Rhine's
SATAN'S 3-RING CIRCUS OF HELL


Forward by
GAHAN WILSON,
FEO AMANTE.
Featuring comics by
WILLIAM STOUT,
HILARY BARTA,
STEVE BISSETTE,
SPAIN RODRIGUEZ,
FRANK DIETZ,
JIM SMITH,
TONE RODRIGUEZ,
FRANK FORTE,
ERIC PIGORS,
ALEX PARDEE,
MIKE SOSNOWSKI,
OMAHA PEREZ,
DAVID HARTMAN,
D.W. FRYDENDALL,
SHANNON WHEELER,
VINCENT WALLER,
JACOB HAIR,
NENAD GUCUNJA,
STEVEN MANNION,
NORMAN CABRERA,
and more!
ALSO
IN CINEMA
E.C. McMullen Jr.
Head Production Designer on


MINE GAMES
(Starring:
Alex Meraz, Briana Evigan)